Unique Curb Appeal
May 1, 2014, 5:52 pm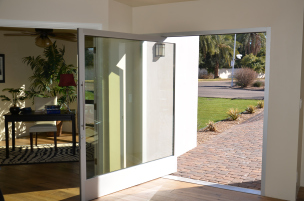 Looking to update your home? If you are looking to stand out on your block and don't mind a modern look, pivot doors might be a great option for you. These doors are swiftly gaining popularity amongst residential remodels and custom homes. Pivot doors give a home's curb appeal a contemporary unique feel, making a home look rich and updated.
These non-traditional doors are a great choice for an entry door. They can also be installed on the interior of a home to separate different spaces such as a home office. Different glass options are available such as frosted glass if you are seeking more privacy.
Their design allows for unobstructed views with the majority of the door's surface area being glass. For a home with exceptional outdoor views this may be a great option to be able to enjoy the beautiful scenes from within the home. Another feature is the offset pivot hinge which allows the door to operate in both directions (inswing & outswing). This makes it convenient to open, especially when you may have a ton of grocery bags in your hand hoping to only make one trip from the car (we've all been there). When it comes to material, the thermally isolated aluminum protects from rusting, rot, or warping giving homeowners a little piece of mind.
In short, pivot doors are no longer just a commercial commodity. Homeowners looking to remodel or begin designing a custom home are all over this trend.